Vorab: Nein, es gibt keinen Gewinn, egal wie hoch er angeblich sein soll. Meist passen die E-Mail-Adressen nicht zu den Unternehmen (zumindest die Adressen, an die man antworten soll). Sie sind in der E-Mail nicht mal als Empfänger genannt, weder im Briefkopf noch in der Anrede der E-Mail.
Unter dem Vorwand, Sie hätten Britische Pfund (GBP) gewonnen, sollen Sie persönliche Daten angeben. Der E-Mail sind teilweise Dokumente mit weiteren Informationen beigefügt. Die E-Mails kommen teilweise in deutscher, teilweise in englischer Sprache.
Antworten Sie nicht auf die E-Mail! Geben Sie keine persönlichen Daten an! In weiteren E-Mails werden Sie evtl. zur Zahlung von Gebühren und Auslagen aufgefordert! Senden Sie kein Geld, denn es gibt den gezeigten Gewinn nicht!
Kein Unternehmen (egal, ob Google oder Microsoft) wird einfach so Geld verlosen und wenn Sie der Gewinner sein sollen, dann müssten Sie sich doch an eine Teilnahme erinnern und in der E-Mail mit Ihrem Namen angesprochen werden? Da Sie an keiner Verlosung mitgemacht haben (die gibt es nicht), können Sie auch nicht gewonnen haben!
Informieren Sie sich im Internet ggf. über SCAM oder Vorschussbetrug (siehe Wikipedia).
Hier das Beispiel der durch unbekannte Dritte versendeten E-Mail in deutscher Sprache, die aber eine Anlage in englischer Sprache mitbringt:
Offizielle Google-Benachrichtigung von Google Nachrichten ([email protected], antworten an [email protected])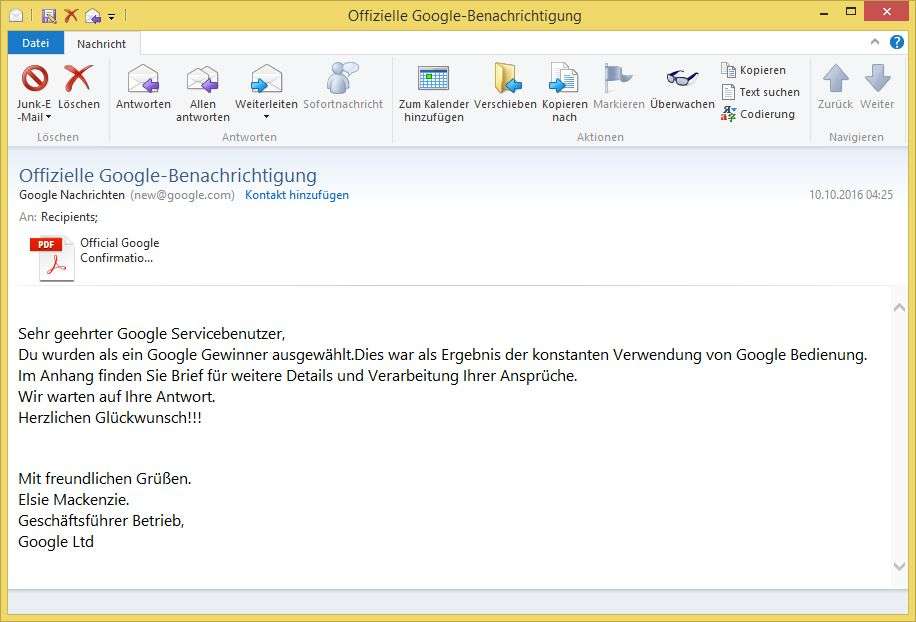 Sehr geehrter Google Servicebenutzer,
Du wurden als ein Google Gewinner ausgewählt.Dies war als Ergebnis der konstanten Verwendung von Google Bedienung.
Im Anhang finden Sie Brief für weitere Details und Verarbeitung Ihrer Ansprüche.
Wir warten auf Ihre Antwort.
Herzlichen Glückwunsch!!!
Mit freundlichen Grüßen.
Elsie Mackenzie.
Geschäftsführer Betrieb,
Google Ltd
Der Inhalt der Anlage "Official Google Confirmation Letter.pdf" lautet wie folgt:
Google

Google
Belgrave House
76 Buckingham Palace Road
London SW1W 9TQ United Kingdom.

Ref No: GFSP/4877/7782/2016
Batch No: GFSP/373977/GFWIN/UK

RE: OFFICIAL LETTER.

We heartily congratulate you over your success in the official publication of results of the E-mail Electronic Online Sweepstake Organized by Google (randomly picked by our automated system/Random Name and E-mail Generator (RNG), in conjunction with the foundation for the Promotion of Software Products (FPS), held here in London UK. Google earns its profit mainly from advertising using their very own Google search engine, Gmail, Gala, Sify, e-mail service Google Maps, Google Apps, Orkut social networking and YouTube video sharing, which are all offered to the public for free.

We wish to congratulate you one again, for being among the Twelve (12) selected winners. Hence we do believe with your prize, you will continue to be active in your patronage to Google and its Products. A Bank Cheque will be issued in your favour, hence you have won for yourself the sum of £950,000.00 GBP (Nine Hundred and Fifty Thousand British Pounds Sterling), One Google Nexus 10 Tablet and also you have been enlisted as One of the Google ambassadors for 2016.

To claim your reward, please contact our Foreign Payment Bureau officer by neatly filling the mandatory payment requirements hereunder, as your payment will be released and arranged by our United Kingdom Office:

MANDATORY PAYMENT REQUIREMENTS.

(1) Your Full Names:
(2) Your Contact Telephone/Mobile Number:
(3) Your Nationality/Country:
(4) Your Contact Address:
(5) Occupation:
(6) Age/Gender:
(7) Material Status:
(8) Private Email Address:
(9) Ever Won An Online Lottery?
(10) How Do You Feel As A Winnder?

Contact Person:
Kent Walker
Senior Vice-President and General Counsel
Contact E-Mail: [email protected]

Note: You can either fill your claims form by printing and manually filling out the requested details or you can fill directly on E-mail, or provide the details on Microsoft Word separately.

NOTE!!! For security reasons, you are advised to keep your winning information confidential till your claims are processed and your money remitted to you. This is part oft our precautionary measure to avoid double claiming and unwarranted abuse of this Program by some unscrupulous elements. please be WARNED!!!!

Congratulations from the staffs & members of Google board commission.

MD Matt Brittin,
Chairman of the Board an Managing Director,
Google United Kingdom

Larry Page
Co-Founder & CEO

Google Incorporation.
Hier das Beispiel der durch unbekannte Dritte versendeten E-Mail in englischer Sprache, die zwei Anlagen gleichen Inhalts in englischer Sprache mitbringt:
DEAR USER/WINNER von Microsoft® Corporation ([email protected] oder [email protected])
MICROSOFT® CORPORATION
Cardinal Place
80-100 Victoria Street
London,SW1E 5JL
United Kingdom

Promo Code: MSW/5975/107/2016
Security Number: MSW16-23454

MICROSOFT ANNUAL GIVEAWAY PROMO 2016

We wish to congratulate you on this note, for being part of our selected winners in our just concluded internal promotion draw this year, this promotion was set-up to encourage the active users of Microsoft products and its software services.

Hence we do believe with your winning prize, you will become an active user to Microsoft products and its software services. Microsoft Corporation develops and markets software, services and hardware that deliver new opportunities, greater convenience and enhanced value to people's lives. We ran an online e-mail beta draw which your email address won Nine Hundred and Fifty Thousand Great British Pounds Sterling (Ј950,000.00). We wish to formally announce to you that you have successfully passed the requirements, statutory obligations, verifications, validations and satisfactory report Test conducted for all online winners.

A winning check will be issued in your name by Microsoft Award Team; for the sum of Nine Hundred and Fifty Thousand Great British Pounds Sterling (Ј950,000.00) and also a certificate of prize claims will be sent alongside your winning check cashable at any bank.

You are advised to contact the assigned Microsoft Program Administrator/Coordinator with the following details to avoid unnecessary delay and complications:

VERIFICATION AND FUNDS RELEASE FORM

(1) Your Contact Address/Private Email Address:
(2) Your Tel/Fax Numbers:
(3) Your Nationality/Country:
(4) Your Full Name:
(5) Occupation/Company:
(6) Age/Gender:
(7) Ever Won An Online Lottery?
(8) Comments about Microsoft:

Andrew Greene
Microsoft Lottery Coordinator , U.K
E-mail: [email protected]

Microsoft values your right to privacy! Your information is 100% secured and will be used exclusively for the purpose of this award only.

Microsoft Award Team has discovered a huge number of double claims due to winners informing close friends relatives and third parties about their winning and also sharing their pin numbers. As a result of this, these friends try to claim the lottery on behalf of the real winners. Microsoft Corporation Lottery Board has reached a decision from its headquarters that any attempt on double claiming of lottery winnings discovered by the Lottery Board will result to the cancellation of that particular winning, leading to loss for both the double claimer and the real winner, as it is taken that the real winner was the informer to the double claimer about the lottery. So you are strongly advised to keep your winnings strictly confidential until you claim your prize.

Congratulations from the Staffs & Members of the Microsoft interactive Lotteries Board Commission.

Yours faithfully,
Nicola Hodson (nee McKeown)'s
General Manager of Marketing & Operations,
Microsoft ® United Kingdom.
Email: [email protected]
Die beiden Anlagen "MICROSOFT.docx" und "MICROSOFT.pdf" haben den gleichen Inhalt.
Kommentar(e)